NATURAL SUNSCREEN SPF 30+ FRAGRANCE FREE
☑️ SHEER CLEAR ZINC FOR SENSITIVE SKIN  (100ml)
This Non-Nano Zinc-based Natural Sunscreen from Avocado Zinc was designed with the most sensitive skin types in mind. Our SPF 30+ is the perfect face & body sunscreen for long term sun exposure. Unlike many other sunscreens, this product won't sting eyes, irritate skin or cause breakouts. Our SPF 30+ Sunscreen is fragrance free, has a natural "Avocado green" colour, feels light on the skin and goes on clear!
☑️ SPF 30+ BROAD SPECTRUM WITH ZERO WHITE CAST
We utilised breakthrough Index-Matching technology that eliminates white cast across all skin types, provides complete UVA & UVB broad spectrum protection and boasts an impressive SPF of 37 (however, due to Australian regulations, we have to label it as SPF 30+). This sunscreen is definitely strong enough to protect your skin from short to long term sun exposure. 
☑️ DEEPLY HYDRATING & ANTI-AGEING
With the added blend of Avocado Oil & Shea Butter, it makes it the perfect defence against dry, acne-prone skin, as well as a superstar in natural anti-ageing skin care!
☑️ SIMPLE 6 INGREDIENT FORMULA BOASTING MANY SKIN CARE BENEFITS
Avocado Zinc leaves your skin feeling super soft, supple, hydrated & clear, whilst also preventing the formation of wrinkles, pimples, brown spots, skin discolourations, acne scarring, pigmentation, melasma, rosacea, red veins, blotchiness and skin cancer. 
☑️ ECO-FRIENDLY & NON-TOXIC
Comes in a luxurious 100 ml aluminium airless tube that can be re-purposed by pushing the airless base back down to the bottom of the bottle (we recommend using the end of a make-up brush - make sure it has been cleaned).

☑️ MINERAL (PHYSICAL) SUNSCREEN, NO CHEMICAL ACTIVE INGREDIENTS
FREE from preservatives, PABAs, parabens, sulfates, silicones, oxybenzone, octinoxate and all other nasty chemical UV filters.
☑️ SAFE & EFFECTIVE FOR EVERYONE INCLUDING BABIES
Contains only natural & naturally derived ingredients. 100% gluten free, vegan, cruelty free, reef friendly, fragrance free & toxin free.
Proudly made with love in Perth, Western Australia. 
N.B. All of our products have a shelf life of 2+ years.
26% Zinc Oxide, Coco-Caprylate / Caprate (a mixture of naturally derived coconut alcohol, caprylic acid and capric acid), Persea gratissima (Avocado) Oil, Butyrospermum Parkii (Shea Butter), Polyglyceryl-3 Polyricinoleate (an emulsifier naturally derived from glycerine and vegetable oil), Isostearic Acid (an emollient naturally derived from vegetable oil).
N.B. The reason our SPF 30+ has a lower percentage of zinc oxide whilst having a higher SPF, is because it has a higher dispersion of zinc oxide.
Apply liberally and evenly to face & neck every morning or 20 minutes prior to UV exposure. We recommend 2 pumps for the face and 3 - 4 pumps for the face & neck. Re-apply every two hours or more when sweating, and after swimming or towelling. Use as an everyday facial sunscreen, moisturiser and make-up primer.
Store in a cool and dry place upright and away from direct heat and sunlight. 
Customer Reviews
12/09/2019
Tatsiana I.
Australia
11/27/2019
Veronica H.
Australia
Brilliant product.
This is the best sunscreen I have every used. I have now purchased all three and they are all brilliant. I am 65 and only need to use it then foundation strait over it and my skin stays moist all day. I apply on my body and it is so moisturising yet soaks in and is not sticky. I am in WA and ordered and it was delivered the following day.
11/26/2019
Karla E.
Australia
Love this product!
I have been searching for a natural sunscreen option for such a long time. Every product I have tried has been super thick and not gone on clear as promised. Even in the QLD heat, the zinc would stay thick and be difficult to apply and it would be obviously white in colour. I absolutely love the Avocado Zinc, it is everything I have been wanting. Thank you!
11/26/2019
Rebecca P.
Australia
I like this natural sunscreen
I'm always on the hunt for a good natural zinc based sunscreen for my face. Unfortunately I find this to be a little too oily to be worn underneath my makeup and towards the end of the day I can feel it sitting on my skin and want to wash it off. I love it on the rest of my body though so will definitely use it on my hands and chest daily. It's also lovely on my kids skin.
11/14/2019
Hannah H.
Australia
Love!
My favourite natural sunscreen by far! And I've tried a lot.Thanks for the great product! Will definitely buy again x
11/13/2019
Margaret S.
United States
Fantastic Healthy Sunscreen
I live in the USA and ordered this after reading some information I found online. This is great sunscreen, incredibly healthy on the skin and very moisturizing. I was hoping to find a sunscreen that was also very moisturizing; I'm very happy with this and will definitely order again.
11/11/2019
Neil B.
Australia
SPF 30+ sunscreen
Have only had this lotion for a few days, but so far, I'm very happy with it. Love that it's a liquid and so easy to apply. It felt just a little greasy at first but seems to absorb quite well. I've tried numerous natural sunscreens and this is definitely the best to date. My only reservation in purchasing again would be the price - I got this on sale and would definitely purchase again at that price, but the full price for me is maybe a little steep. Best wishes for the ongoing success of your company.
11/10/2019
Jessica H.
Australia
Loving it!
I do think there is a white cast to begin with but it does fade quickly. It can make my hairline a bit greasy. It does make my complexion look fresh.
11/09/2019
J H.
Australia
Best I've tried so far
It is easy to apply and feels light on the skin. I still experience a white cast but it is much less noticeable than others I've tried. I will purchase again
11/06/2019
Kristy K.
Australia
Not sticky, smooth
This is a natural sunscreen for face and body that the whole family can use. I love the consistency. It goes on smooth, leaves no traces of white and moisturises your skin. We love it and will be using this as our go to sunscreen all year around.
11/05/2019
Giulia S.
Australia
perfect
A truly wonderful product, I suffer from contact eczema, roscea - basically super overthe top drama skin, have used countless products with adverse reaction, so happy I recieved this, I hope in the future you make a night time moisteriser, and please please do not include any citric acid and any derivitive as this ing. is my nightmare.
11/04/2019
Rosemary S.
Australia
Nice product for the face
I like the cream for my face but it is a bit greasy going on and there is a slight white residue but it does seem to fade after about 10 min so it is a nice alternative to normal subscreens
11/03/2019
Sue M.
Australia
Avo zinc runs in well
Avo zinc is the best natural sunscreen I have used in terms of how well it rubs in, hardly any ghost white look and no offensive smell that some other natural ones have. It's really good. It's slightly greasy, if you can work on reducing that without adding chemicals it would be brilliant. But I'll definitely order more.
10/28/2019
Viv C.
Australia
High Quality product
Product is non greasy or sticky. Goes on skin beautifully and feels so smooth
10/28/2019
Bridie P.
Australia
So far so good
I live in Cairns and need something to protect my skin from the sun but also to keep it moisturised. This works great as it's light and fluid, and with the humidity I don't need extra moisture on my face. It's like wearing a thin sunscreen. There is a film but it's light so it works for me.
10/23/2019
Angela P.
Australia
Great make up base
I recently brought avo zinc as I have been looking for a natural sun cream, after years of sun damage I want to protect my skin, I love that I can put the zinc on and put make up over the top, and my skin be protected throughout the day, I am very happy, it's in my daily skin routine, thank you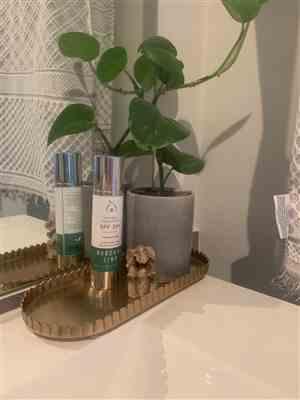 10/21/2019
Lucia C.
Australia
Avo Zinc
Very happy with Avo zinc so far. Used it on my face so far and it feels very hydrated. Didn't try it yet how it protects my face from sun exposure.
10/20/2019
Suzanne T.
Australia
Overall good quality
Has a lovely creamy texture, not too thick. Feels more like a moisturiser than a sunscreen.
10/20/2019
Mara C.
Australia
Avocado Zinc Sunscreen
I have only had this product a short while so my experience is limited. I have found this sunscreen to be effective in keeping my skin from being burnt and it does not leave you looking like a ghost, but I find it a little oily. It didn't peel under makeup which is a plus.
10/20/2019
Jenny M.
Australia
Used the product today for first time - really happy
Hot and sunny day. Out in the sun for three hours, Seemed to provide excellent protection.